Las Cruces Real Estate | Throwback Thursday - San Albino Alter Stone
Posted by Kayla Fikany on Thursday, March 18, 2021 at 9:00 AM
By Kayla Fikany / March 18, 2021
Comment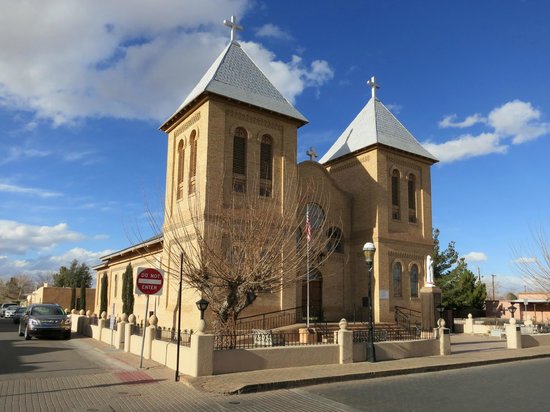 You never know what history you may uncover while doing a little Spring cleaning!
On Saturday, May 31, 2008, a group of parishioners volunteered to help clean out the bell tower storage areas of the Basilica of San Albino in the town of Mesilla, New Mexico. While completing their cleaning task, to their pleasant surprise, in the dusty areas where seasonal items and old statuary is stored, they discovered an old altar stone with saintly relics attached. It was wrapped in a worn, stained, cotton cloth stitched to enclose the marble slab.
The two-inch thick, approximately 11-by11-inch square marble stone bore faded ink writing defining its origin. While some words were clear, others were completely faded, barely visible, or missing altogether — making the message vague. After many hours spent deciphering the message, it was finally translated into: "Consecrated the 6th of September 1807 by the most Illustrious and Most Revered, Sr., Dr., Dr., Fray Francisco Ramón Causus y Torres de Plazas of the Order of Preachers Bishop of Rhosus in partibus and Auxiliary of Oaxaca – the first that he consecrated in his oratory in the Imperial Convent Santo Domingo Mexico."
The stone's Oaxacan location, so far from tiny Mesilla, New Mexico, (nearly 1,500 miles) emphasized the long distances traveled by the clergy in their quest to evangelize in partibus infidelium the largely uninhabited regions of the New World, New Spain, Mexico, New Mexico Territory, and finally what was to become the State of New Mexico. One mystery yet unsolved is exactly who brought the stone and how the altar stone came to be in a church established some forty years later in the Durango Diocese rather than the Oaxaca Diocese.
Unfortunately, there are no photos of this religious relic; however, the altar stone remains safely kept at the parish.
Source: Olivia McDonald and The Dona Ana County Historical Society