Las Cruces Real Estate | Market Stats: May 30 - June 6
Posted by Kayla Fikany on Monday, June 7, 2021 at 11:30 AM
By Kayla Fikany / June 7, 2021
Comment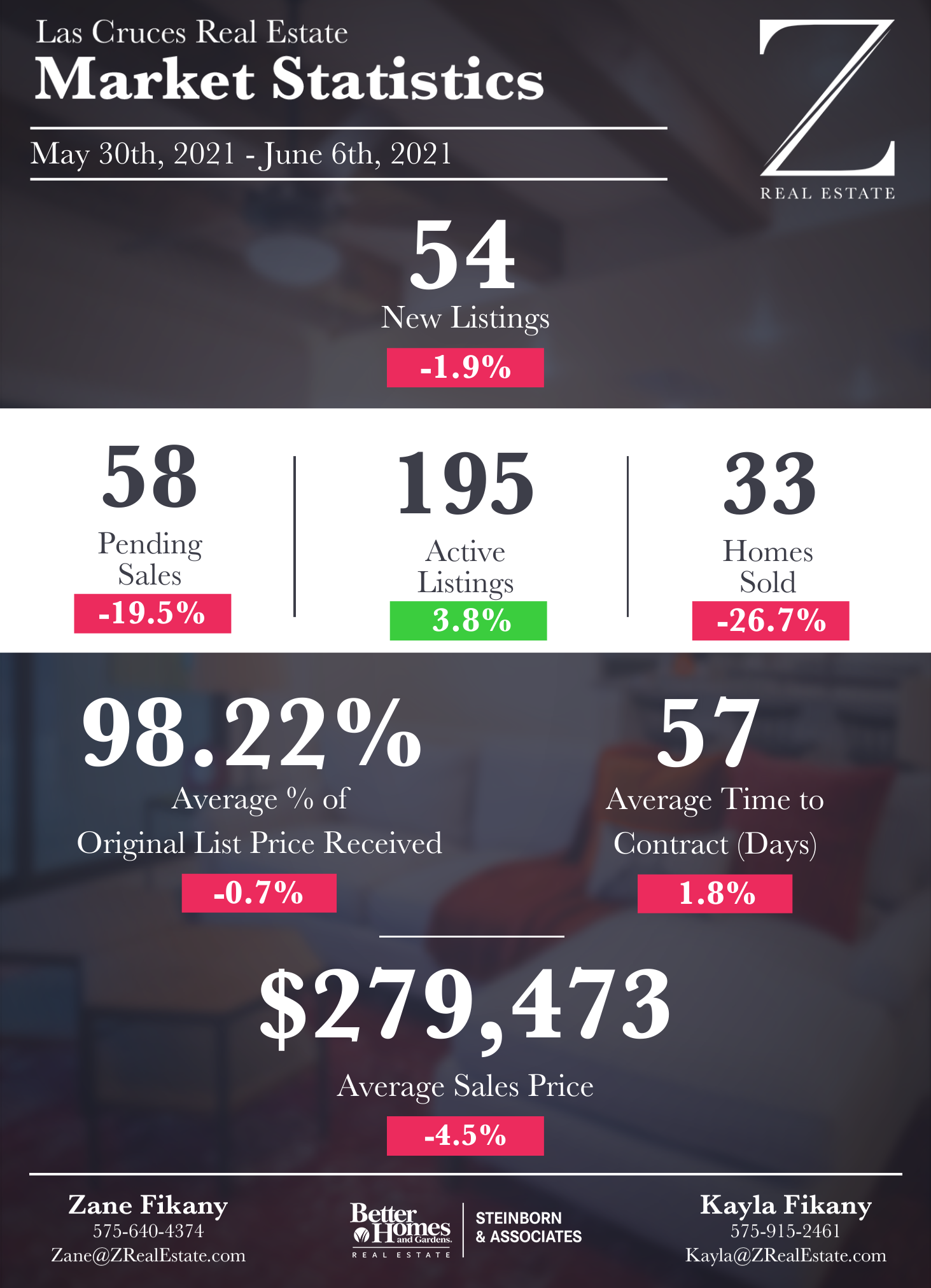 Okay, we know that there is a lot of red on this graphic. The first week of June does look a little rough, but there's still a long way to go in the month, and besides, it's not all bad! Just look at Active Listings climbing its way back up towards 200! Hey, small victories are still victories!
To start with, let's look at our biggest movers for the week. Homes sold took a significant hit of 26.7%, dropping it down to only 33 homes sold. This stat sometimes goes hand-in-hand with pending sales, which was our other big mover for the week. The number of homes under contract for the first week of June was only 58, which is a 19.5% decrease from the last week of May. It's always interesting to see how these two stats move in relation to each other.
All other movements were relatively small. New Listings saw a 1.9% drop to 54 homes, while Active Listings increased almost 4% to 195 homes! We always want to see our inventory grow, so we hope this trend continues back up over 200 homes all summer!
The average days that a home spends on the market increased slightly by 1.8%, making it an average 57 days that a home is on the market. This number is still staying below 2 months and hopefully the trend will start to head in the shorter direction. Overall, our sellers are still receiving over 98% of their original list price, and that's despite the average sales price decreasing by 4.5% and coming back down to under $280,000.
Even though it was a rocky start, we're still hopeful that we'll see more positive trends going through the rest of summer! Be sure to check back next week for more Las Cruces Real Estate Market Stats!!
Have a question? Ready to buy or sell a home? You can reach out to us
here
, or you can find our contact info below!