Las Cruces Real Estate | Market Stats: May 23 - 30
Posted by Kayla Fikany on Tuesday, June 1, 2021 at 10:41 AM
By Kayla Fikany / June 1, 2021
Comment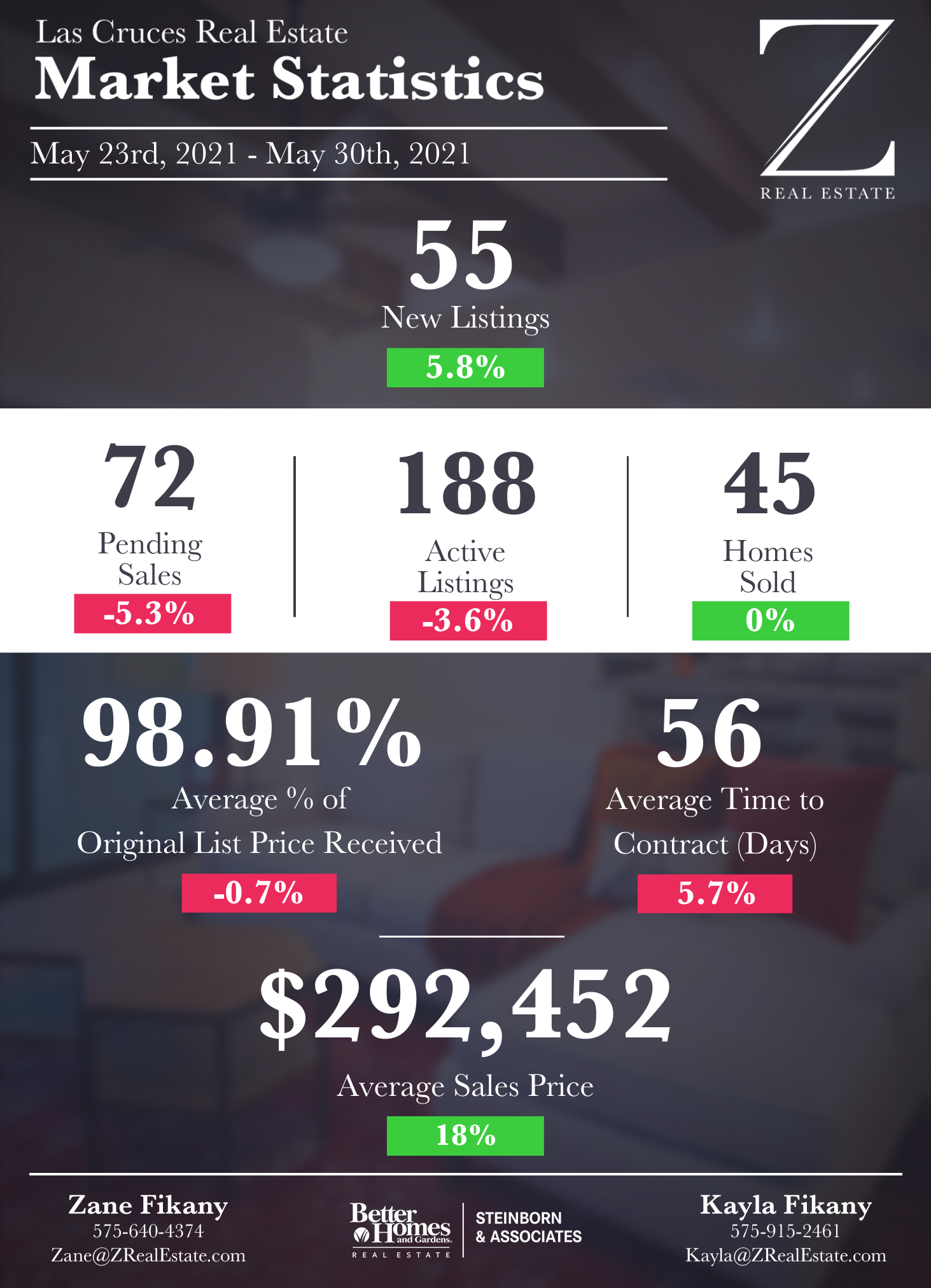 We hope everyone had a wonderful holiday weekend! We're getting back in the routine of things with new Las Cruces Real Estate Market Stats!
We're finishing off the month of May with a mixed bag of small movements. We saw the amount of new homes on the market increase by 5.8% bringing the amount of new listings up to 55 homes. The amount of homes under contract fell by about the same amount, 5.3%, down to 72 homes pending. The amount of active listings remains under 200 homes after taking another small dip of 3.6% down to 188 homes available. Hopefully as we head into the summer months, we can see our inventory of homes increase back above 200 homes.
The number of homes sold has remained constant at 45 homes for most of May. It'll be interesting to see what changes June brings to this stat. Our sellers are entering summer still receiving over 98% of their original list price, which is great to see! The average time on the the market did increase by about 5.7% up to 56 days; however, we have yet to crest 2 whole months on the market. Hopefully we don't cross that line any time soon.
Our biggest mover of the bunch was average sales price. The average sales price shot up like a rocket to $292,452 which is an increase of 18%! This is the closest we've gotten to the $300,000 mark since mid-April and only the second time we've been in the $290s this year! We'll have to see if it stays that high as we move into June!
Check back next week to get an early look at what June may hold for the Las Cruces Real Estate Market!!
Have a question? Ready to buy or sell a home? You can reach out to us here, or you can find our contact info below!
#LasCrucesRealEstate
#RealEstate
#Realtor
#LasCrucesNM
#RealEstateMarket
#MarketStats