Las Cruces Real Estate | Market Stats: May 16 - 23
Posted by Kayla Fikany on Monday, May 24, 2021 at 10:00 AM
By Kayla Fikany / May 24, 2021
Comment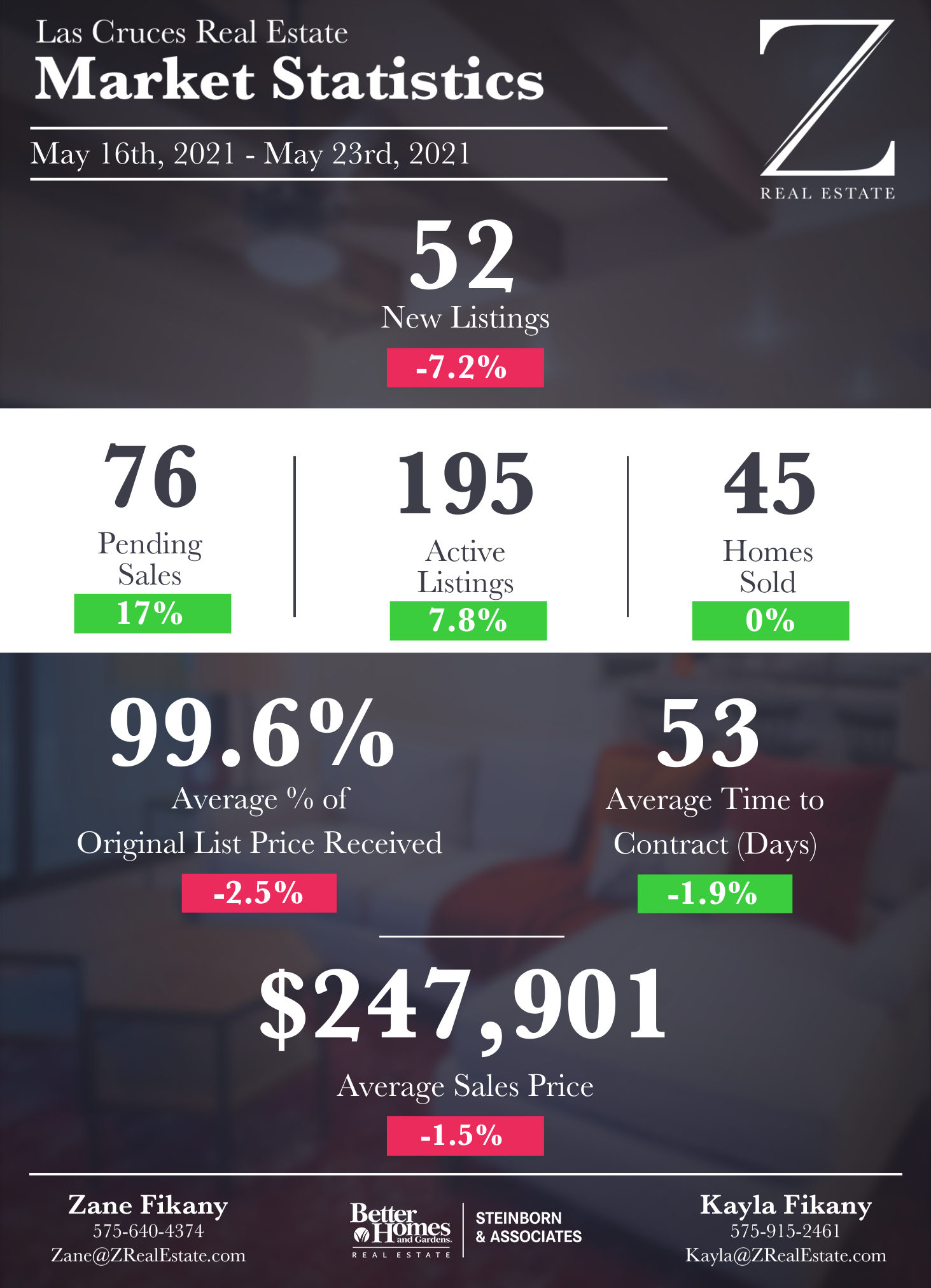 !!!NEW MARKET STATS!!!
This week, the Las Cruces Real Estate Market saw an almost even split down the middle with stats that were on the rise and ones that have decreased. One thing to notice is there were no significant swings compared to last week.
Our biggest mover this week was Pending Sales. The market saw a 17% increase compared to last week, making that 76 homes under contract. Active Listings are also up to 195 homes, which is a 7.8% increase compared to last week. We're back to being below 200 homes on the market, but thankfully it's not by much. Hopefully as we close out May, we can see that number continue to rise. Average Days to Contract saw a small improvement of 1.9%, making the average time on the market about 53 days. This number has been pretty consistent over the last several weeks, but we always hope that it will continue to go down.
The number of New Listings on the market is down to 52 homes, which is a 7.2% decrease compared to last week. This isn't a huge dip, but as we head into the summer months, it'll be important to watch and see if this number goes back up. The percent of original list price that our sellers are receiving took a small 2.5% dip, but they are still receiving over 99% of their original list price. Average sales price is the only other stat that experienced a decrease, and that was only a drop of 1.5% down to just shy of $248,000.
Finally, the number of Homes Sold remained the same as last week at 45 homes. We have one more week left in May, so it'll be interesting to see if we finish off the month without any other larger swings!
Be sure to check back next week to find out!!
Have a question? Ready to buy or sell a home? You can reach out to us
here
, or you can find our contact info below!