Las Cruces Real Estate | Market Stats: March 22 - 29
Posted by Kayla Fikany on Monday, March 29, 2021 at 9:00 AM
By Kayla Fikany / March 29, 2021
Comment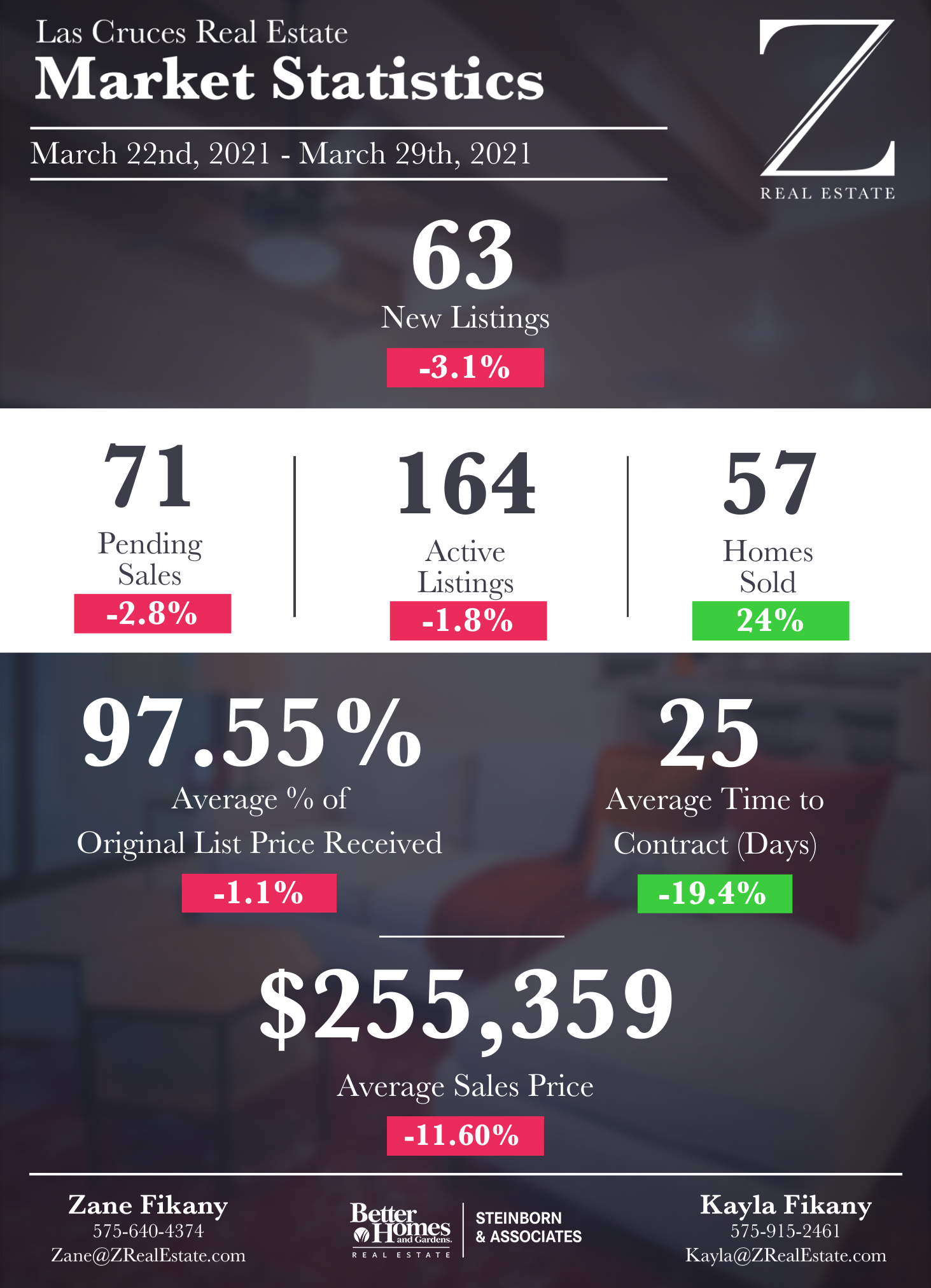 Unfortunately, for this week, we don't have a lot of upward trending statistics. Overall, there were only a couple of stats that had any significant movement, otherwise everything stayed pretty close to last week's stats.
Let's start with our movers for the week. The number of homes sold rose by 24% making that 57 homes sold since last week. We also saw that the average number of days to contract came down over 19% meaning that homes aren't even staying on the market for a month! The sooner that we can get people into the home of their dreams, the better!
The Average Sales Price experienced a decrease of 11.6%, making the average price just over $255,000 for this week. The last several weeks, we've been hovering around the mid-200s for average sales price. It will be interesting to see how that average evolves over time.
The remainderof our stats all stayed about the same as last week. New Listings came down around 3% to 63 homes, which is pretty consistent to the last few weeks. The number of homes under contract also experienced a 2.8% decrease down to 71 homes. Pending sales sometimes correlates with the number of active listings, which was also 1.8% less than last week at 164 homes. Finally, despite moving a little more than usual, sellers are still receiving over 97% of the original list price.
Be sure to check back next week for more Las Cruces Real Estate Market Stats!
Have questions? Are you ready to buy or sell a home? Reach out to us here or you can find our contact info below!
Zane Fikany
Kayla Fikany