Las Cruces Real Estate | Market Stats: March 13 - 22
Posted by Kayla Fikany on Monday, March 22, 2021 at 9:00 AM
By Kayla Fikany / March 22, 2021
Comment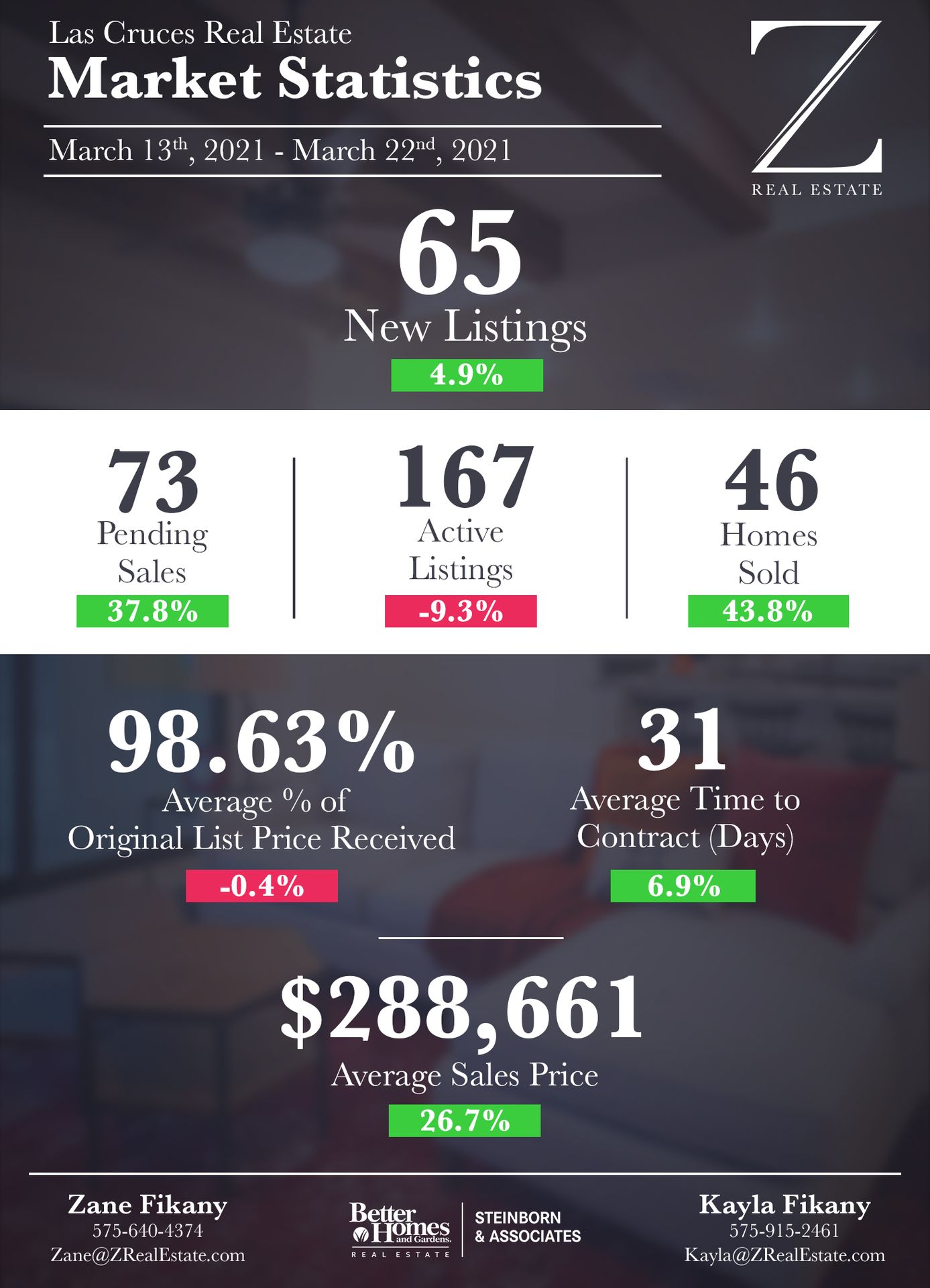 Boy, spring has sprung! Lots of homes sold last week - particularly those with higher price tags - which has brought the number of active homes on the market to the lowest we've seen it. We're going to have a lot to talk about in our market report video, so be sure to like and follow our page for when that comes out in a couple of weeks!

This week, we had 3 significant movers. To start with, the number of homes under contract went up by almost 38% to 73 homes. The number of homes sold saw our biggest increase - up 43.8% to 46 homes! What is interesting is the average sales price also experienced a significant increase from last week, up to 26.7% to $288,661. So the amount of homes sold and the average sales price both increased - we will have to watch these two stats going forward!
New listings saw a small increase of 4.9%, bringing the number of homes up to 65. The amount of original list price that our sellers have been receiving is still holding steady around 98%. This is the only stat that we can count on to not really move lately! The average days to contract experienced an increase of 6.9%, bringing that timeframe to 31 days. Lastly, as we mentioned, the number of Active Listings took a small tumble to 167 homes, which equates to a 9.3% decrease compared to last week.
Be sure to check back next week for more Las Cruces Real Estate Market Stats!
Have questions? Are you ready to buy or sell a home? Reach out to us here or you can find our contact info below!
Zane Fikany
Kayla Fikany