Las Cruces Real Estate | Market Stats: March 1 - March 8
Posted by Kayla Fikany on Monday, March 8, 2021 at 9:00 AM
By Kayla Fikany / March 8, 2021
Comment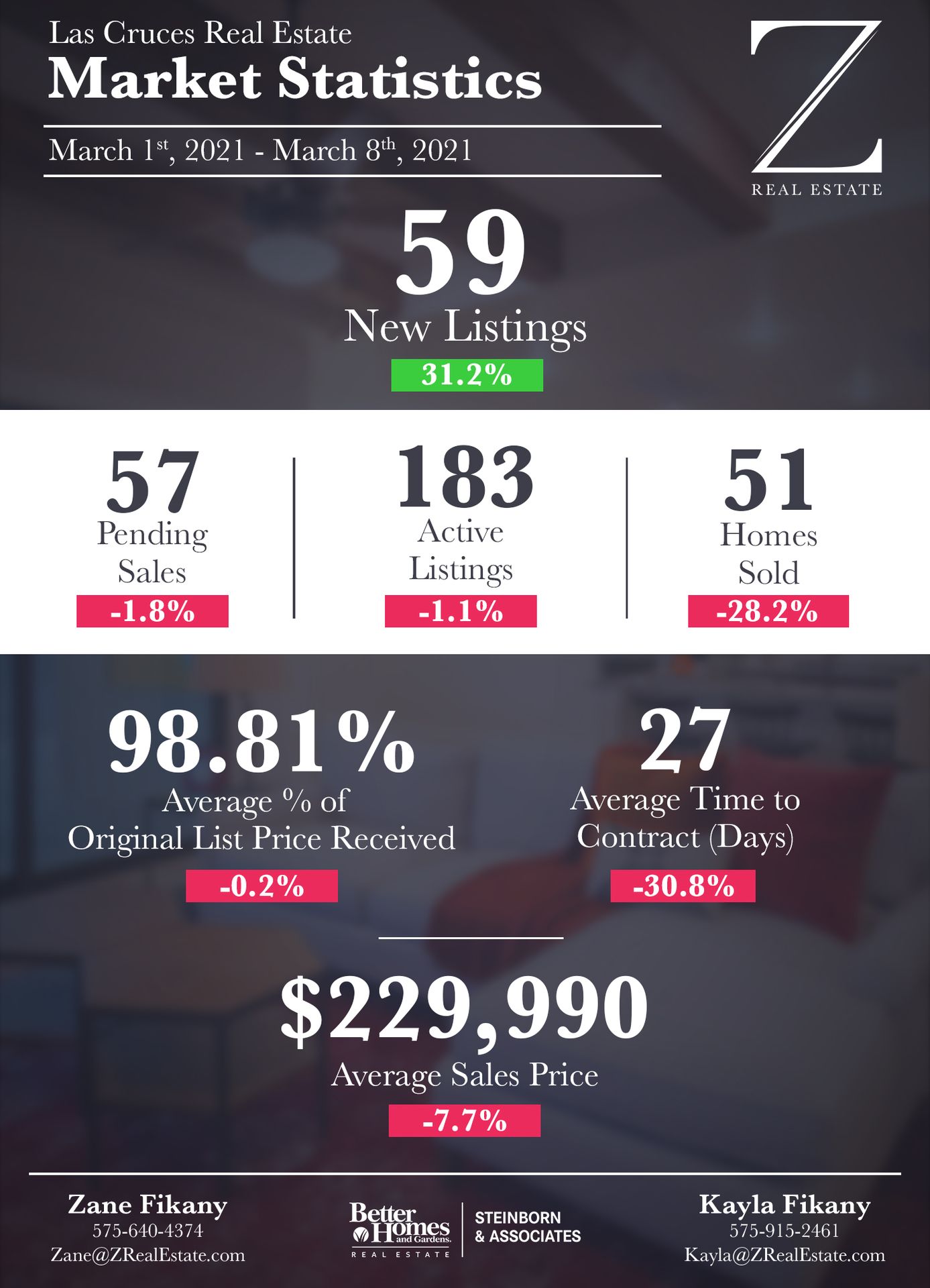 Happy Monday! While we may be seeing a lot of red on the graphic this week, it's not all bad - just take a look at the number of new listings coming on the market! This past week shows a good start to March with numbers coming back up close to where they were last week, and the average sales price coming down a bit is always helpful for buyers.
New Listings and Average Days to Contract are the two positive movers this week. Compared to last week, New Listings are up over 31% to 59 homes, and Average Days to Contract are down to only 27 days, which is a 30.8% decrease. A growing inventory of homes and a short time on the market indicates that buyers are going to be acting fast on homes they love!
As we mentioned, the Average Sales Price came down some to $229,000, which is a little over a 7% decrease from last week. Even though it took a tiny dip, our sellers are still receiving over 98% of their original list price, which shows how serious our buyers are! The rest of the market stats all saw a decrease compared to last week. Pending Sales experienced a small decrease to 57 homes, which is only a decrease of 1.8%. Active Listings took a similar dip of 1.1% to only 183 homes. We've been under 200 Active Listings for the last couple of weeks, so this is one to watch going forward. Finally, Homes Sold experienced a significant drop compared to last week, down over 28%, which equates to 51 homes sold.
Be sure to check back next week for more Las Cruces Real Estate Market Stats!
Have questions? Are you ready to buy or sell a home? Reach out to us here or you can find our contact info below!
Zane Fikany
Kayla Fikany