Las Cruces Real Estate | Market Stats: June 6 - 13
Posted by Kayla Fikany on Monday, June 14, 2021 at 3:14 PM
By Kayla Fikany / June 14, 2021
Comment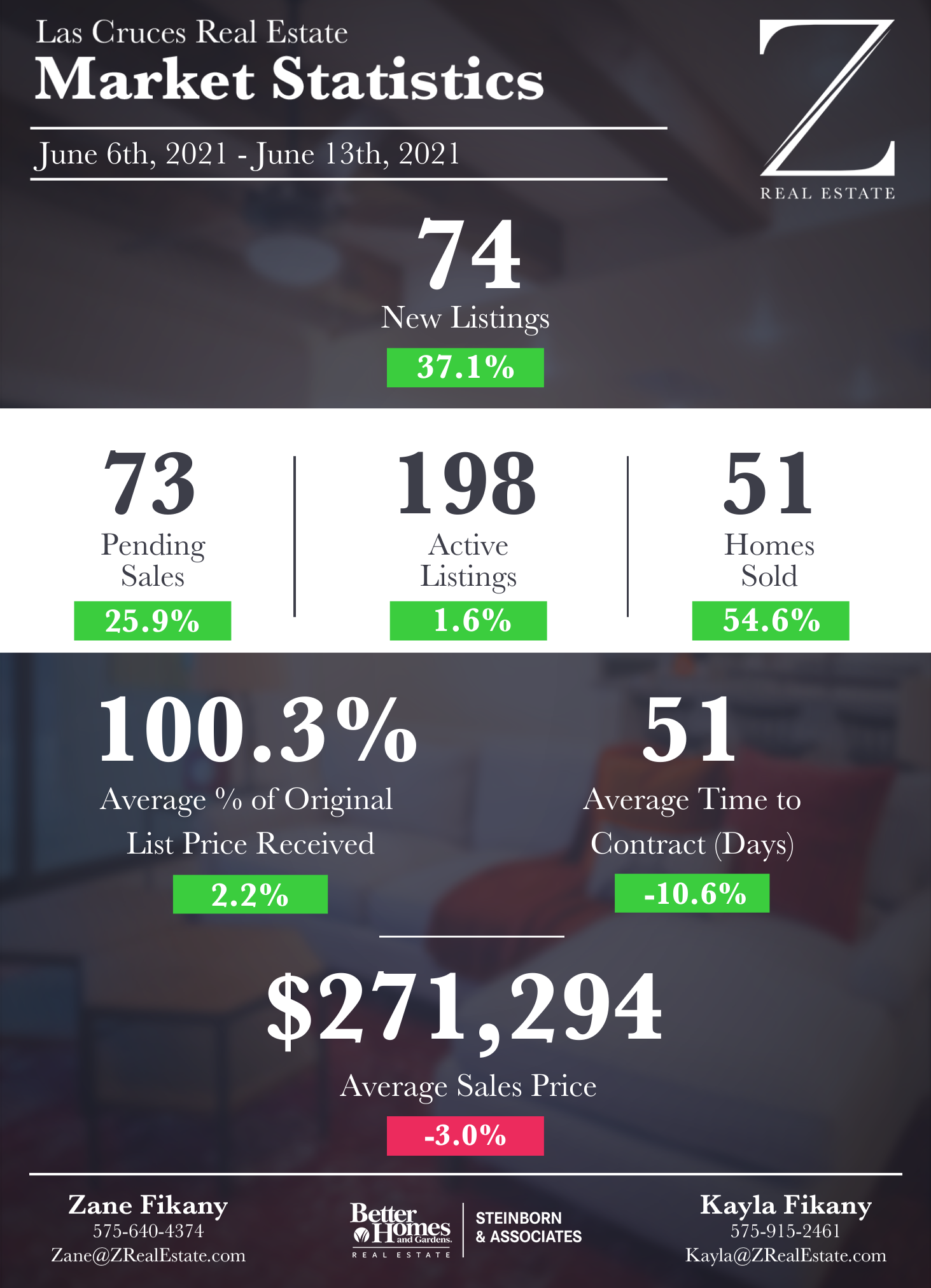 The first full week of June is blanketed in green! We had some pretty big swings this week and thankfully they were all positive!
Our smallest mover this week was with active homes. The number of homes on the market is still below 200 homes, but we're slowly seeing that inventory grow just a little. The first week of June saw this number increase by 1.6% up to 198 homes. We still have high hopes that this number will continue to grow over the summer. The percentage of the original list price that our sellers are seeing officially crested 100% this week, up 2.2% to 100.3%! This shows that some of our sellers are now seeing more than their original list price, which is crazy! Buyers are back to doing whatever they can to seal the deal early on in the process! In addition to this craziness, we saw the average sales price come down by about 3% to a little over $271,000. Mid to upper $200,000 seems to be average for most of this year so far. Another positive sign is that the average days that a home spends on the market came down about 10.6% to 51 days! This is the direction we always prefer this number to go!
Our biggest movers this week were new listings, pending homes, and homes sold. To begin with, we saw the number of new homes on the market jump a significant 37% up to 74 homes! This is only the second time this year that there have been this many new homes on the market! The number of homes under contract took quite a leap up by almost 26% to 73 homes. This stat fluctuates quite a bit, so it's hard to say what the average is; however, it seems to have been in the 60s and 70s a lot this year, so it seems about on par at 73 homes. Finally, our biggest mover was the number of homes sold. This stat rose by a substantial 54.6% to 51 homes sold! This is back to about where it was at the beginning of May, so it will be interesting to see where it goes from here.
Do you think the stats will continue to trend in a good direction all summer? Be sure to tell us your thoughts in the comments below and check back next week to see if your predictions are coming true!
Are you ready to buy or sell a home? Feel free to reach out to us here, or you can find our contact info below! We'd be happy to help in any way!
#LasCrucesRealEstate #RealEstate #Realtor #LasCrucesNM #RealEstateMarket #MarketStats #NewMexicoRealEstate
Zane & Kayla Fikany