Las Cruces Real Estate | Market Stats: June 13 - 20
Posted by Kayla Fikany on Monday, June 21, 2021 at 10:30 AM
By Kayla Fikany / June 21, 2021
Comment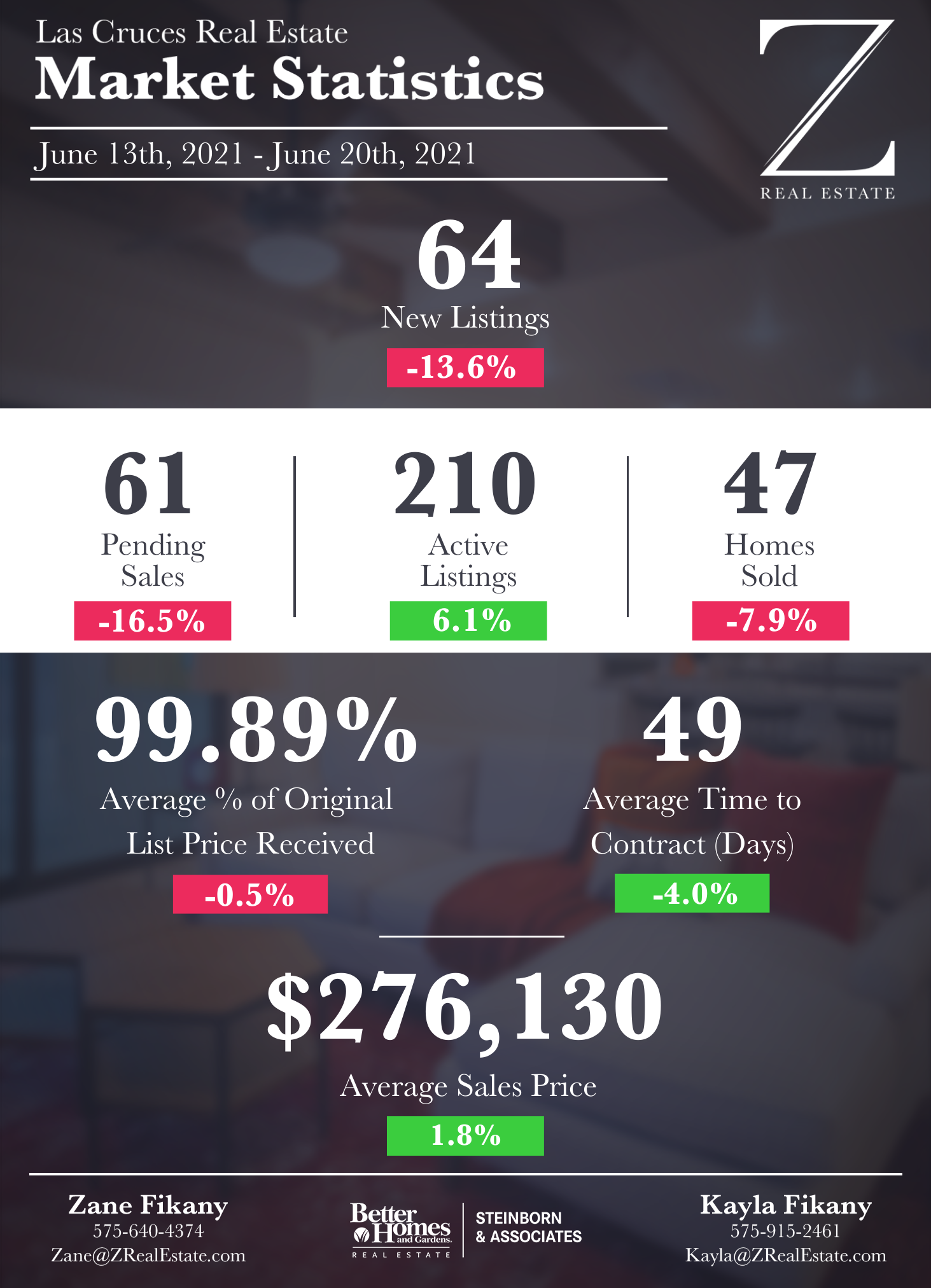 The week's are just flying by lately because we are already back again with another set of New Market Stats for the #LasCrucesRealEstate Market!
The middle of June brought us a healthy mix of movement, with most stats staying within the same range as they have for the past month or so. Our two biggest movers were New Listings and Homes Pending. New Listings fell almost 14% from were it was to start June, down to 64 homes. Homes under contract also fell about 16.5%, down to just 61 homes pending. These seem like significant drops; however, these two stats have stayed within the 50-70 range for the last several months.
The number of homes sold also experienced just shy of an 8% decrease from the beginning of the month, bringing it to 47 homes sold. While our sellers are still bringing in almost all of their original list price, this stat did decrease by a tiny 0.5%, making it officially 99.89% of the original list price that our sellers are earning. While on the topic of pricing, the market saw the average sales price increase by 1.8% which puts it back up to a little over $276,000.
The most exciting two stats for this week are the number of Active Listings and the average days to contract. The last couple months, the average time on the market has been just shy of two months. We've seen this time frame come down slowly over the last couple of weeks and we are happy to say that it's come down again, this time by about 4.0%, down to 49 days! The time spent on the market is now closer to a month and a half! Hopefully it will continue to come down in the coming weeks. Finally, the number of active listings has increased by about 6% and is back up above 200 homes again! We were steadly above 200 homes at the start of the year, but it has been a struggle to get back to that point. We hope that this is a good sign that our inventory is starting to build back up. We'll have to keep watching to find out where it goes!
Be sure to check back next week for more Las Cruces Real Estate Market Stats!!
Are you ready to buy or sell a home? Feel free to reach out to us
here
, or you can find our contact info below! We'd be happy to help in any way!